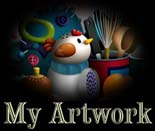 Here are some of my works and I hope you enjoy viewing them as much as I enjoyed creating them. I really want you to take a look at all my pictures but I know the web server is slow and you are losing all your patience seeing the lights on your modem flashing forever to download the pictures. My email box is often very empty so please email me some comments about the pictures.


Various Topics. These are some of the works I have done over last five years (The titles are not listed in chronological order). Most of the works were done after I took the computer graphics course at U of Waterloo in 1995. The professor of that course was really encouraging and gave me the confidence to study computer graphics in a college. If you pay attention to when a particular picture was done, you can see my style is changing. Please tell me how I am doing!

3:37 P.M. | Assimilation | Bulb | Capture | Cat
Deconstruction | Fish | Flower of Depression | Fly-Lounge
Halloween | Hydra Comedian | Kitchen-Box | Lotus Turtle
Midnight Courier | Nighttime Balcony

Collections. Similar to a shoe box of baseball cards.

(1. A Hundred of Anything )The silly black and white cartoons you are going to see were my first semester drawing class term project. The drawing class was serious, everyone had to do gesture drawings, sketchings, perspectives and other things - the goal was to draw as fast and accurate as possible. In the term project, each student chose a theme to work on; I picked the "A hundred of anything" theme. I never like things that are too serious and with the permission of my drawing class teacher, I drew cartoons. I lost sleep on the night before I handed in the project because the pictures I drew were not serious at all, in fact, extremely silly. Later I found out that my teacher liked it (especially the one titled "Octopus Drawing Class"), and I would like to share these pictures with you.


Hong Kong Kindergarten P.E. | International Business Ballroom
Octopus Drawing Class | U.F.O. Boxing Day Sale
Cold Virus Attack

(2. Little Stories ) Something you shouldn't have experienced in real life. If you have, no one believes you.

Bunnispin | Bus Stop | Caffeine Wizard | Cereal Rescuer
Desperate Bank | Melancholic Zoo | Mesmerized | Mice
Pests | Watermelon Mine | Yarn Bird
School Projects. Some of my second and third semester assignments. This semester I am doing 3D Animation and Multimedia 2.
SCA 216 Digital Imaging

Book Cover
Movie Poster
SCA 269 Storyboarding

City Guide Kiosk
SCA 618 3D Modeling 1

Typewriter
Farmers
SCA 634 2D Animation 1

Chicken (Quick Time Movie)

Cherry Ice Factory I (Quick Time Movie)
SCA 810 Multimedia 1

Breakfast Machine
---
[ Index | About me | My Resume | My Artwork ]