Bulb This picture is very important to me. In the last term of my university years I took computer graphics as an elective. I really wanted to know if I should go to a college and study computer graphics. I drew a picture and the professor looked at it and gave some really bad criticism. I was so sad and angry and went home and drew this picture (I nearly failed one of my computer database assignments because of this). The professor saw it and said, "You have learnt." There was certain amount of happiness when I heard it and that kind of happiness was something I had never experienced before. Then I decided to study computer graphics in a college.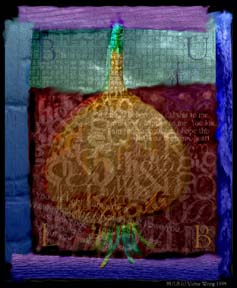 ©Victor Wong. December 1994
Tools used: Aldus Photostyler, Corel Draw.

---
[ Index | About me | My Resume | My Artwork ]

See more...