Yarn Birds Yarn birds feed on cotton yarn which grows on cotton yarn trees. Yarn bird lovers put metal frames on trees to attract these birds to live there. Female yarn birds are more beautiful than the male. A normal yarn bird family consists of one female and two to three male yarn birds. Each year mother and father yarn bird both sheds a thread and mother starts knitting up a baby yarn bird. Father yarn birds do not know how to knit but to eat.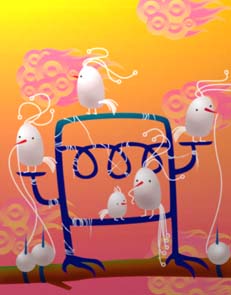 ©Victor Wong. February 1996
Tools used: Illustrator, Photoshop, Painter.

---
[ Index | About me | My Resume | My Artwork ]

See more...