Cherry Ice Factory I (Quicktime Movie - Requires Quick time plugin for your web broswer) 30 frames looping animation. Cherry ice in great demand.

There's a Cherry Ice Factory II, it's a 650 frames movie with a real story! But it's too large, can't share it with you....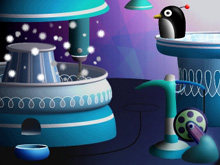 (254 K)
PRESS HERE TO VIEW MOVIE
(make sure you have the plugin first!)
©Victor Wong. November 1996.
Tools used: Illustrator, Dimension, Photoshop, Painter, Animator Studio
P.S. The penguin is a robot.

---
[ Index | About me | My Resume | My Artwork ]

See more...