Typewriter I have to say 3D modelling is a test of your patience: 1. You have to model every nuts and bolts precisely. 2. The more you model, the longer it takes to model the next thing as your computer gets slower 3. Ok, your model is done, now you have to render it. That takes hours to do and you can't play computer games.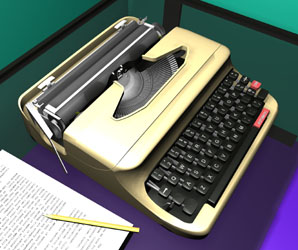 ©Victor Wong. November 1996
Tool used: 3D Studio Max

---
[ Index | About me | My Resume | My Artwork ]

See more...