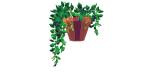 Eateries

Businesses

Schools

Government


Organizations

Library

Virtual Tour

Announcements

Recreation


Events

Real Estate

Guestbook

Free Stuff

FLI Forum

Back Home

Recycling Coordinator: Ron Lotterman
Assistant Supervisor: Bob Hahn
What's New | Photo Gallery | Recycling Info | Related Links
The recycling department has added a new textile recycling bin. In addition to accepting used clothing, this bin accepts pocketbooks, shoes, table clothes, drapes, curtains or any textile. Ask the employee at the Recycling Center to point out the proper bin. Moreover, the Borough of Fair Lawn receives $100 per ton, so by recycling you are not only helping the environment, but helping your town as well. (Please note that this textile recycling bin is not to be confused with the Amvets or Goodwill bins which only accept usable clothing and do NOT pay for the material.)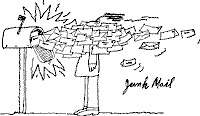 If junk mail has you overwhelmed, learn how to reduce junk mail from the Waste Prevention World site
Reminders
Recycling barrels remain the property of the Borough. If anyone is selling their house the barrel must remain with the house! Remember to check to see if a barrel is present at the closing!
The resident survey in the Waste Reduction Handbook should be filled out and mailed in or sent by e-mail to Deredain@ix.netcom.com
Statistics on Textile Collection
5.3% of the waste stream is clothing and textiles
48% of used clothing collected will be used as clothing again.
Textiles require 100 years or more to decompose in open air and even longer in landfills!
The renovations are complete. We have new yellow bins for the recycling of batteries, and have installed steps for easier use of our larger recycling bins. Of course, we still have FREE compost available.
| | |
| --- | --- |
| | |
| Recycling bins for batteries | Free compost |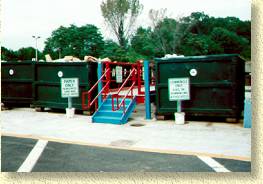 Steps for easier access to recycling bins
Fair Lawn has both curbside collection as well as a place to drop off recyclables. The Recycling Center Drop Off, located at 20-05 Saddle River Road, is open to all Borough residents and businesses. It is open Monday through Friday from 8 am until 4 PM, Saturdays from 9 am to 1 PM and Sundays from noon to 4 PM. The center is closed on all Borough holidays. Additional hours may be added for Spring and Fall clean up. Please call the Recycling Office at 794-5366 to verify these times and to check if any changes have been made since the posting of this page.
Fair Lawn has curbside pickup for paper (newspaper, junk mail, magazines, chipboard, office paper and corrugated paper), commingled goods (glass bottles, jars, aluminum and tin cans and plastic), yard waste (grass, leaves, brush, plants, and branches less than 3 inches in diameter). It also has curbside pickup for scrap metal by appointment only. Please call the Recycling Office if you have any questions as to what materials can be left at curbside for pickup:
Fair Lawn Recycling Center,
20-05 Saddle River Road
Fair Lawn, N.J. 07410
794-5366
Using worms to convert decomposing food waste into nutrient-rich fertilizer is simple, inexpensive, energy efficient, and a great way to teach children to become life-long recyclers.
Keep America Beautiful, Inc. (KAB) is a national, non-profit, public education organization with local affiliates, dedicated to improving solid waste handling practices in American communities.
Information about home recycling including what types of material are acceptable and why, and how to get rid of difficult materials such as batteries. Includes a section on reducing unwanted junk mail.
Earthweek chronicles environmental events with an unprecedented weekly summary of natural history.
This searchable site from the left coast has information on doing more with less. Great tips on what to do about junk mail.
What to do with old panty hose? Why, recylce them of course!
Comments about this site, or questions about recycling can be e-mailed to Deredain@ix.netcom.com.


Another Creative Web Design by Larry Schwartz
Copyright © 1996 Larry Schwartz. All rights reserved. Please read the disclaimer.

Last updated on 13 Dec 1996 10:12:39 -0500