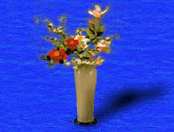 An Introduction to Chinese Flower Vessels
In the tradition of Chinese floral arrangement, vessels have always been viewed as mother earth or home to the flowers. Lovers of floral art have always been very particular about the appearance of those objects which hold and support their beloved flower compositions. An aficionado of flower arrangement would no more place flowers in an improper receptacle than, to quote a passage from file History of the Vase, "deposit a jade bracelet in a straw shack or invite poets and wine connoisseurs Chi, Juan, Ho, or Li to dine at a common wine shop."
Flower containers were often made of bronze and took the form of a tripod, a goblet, an ornamental drinking cup, and a pot-bellied wine vessel. Of the producers of porcelain containers, the Imperial, Ko, and Ting kilns were the most renowned.
Bronze, the product of age-old forces at work within the bowels of the earth, was believed to have absorbed much of the "earth force." For this reason, bronze vessels were assumed to be particularly congenial to flowers and to produce blooms of exceptionally vivid hue. Vessels made of clay were viewed in the same favorable light.
To provide a stable platform for the flowers and hold them securely in place, designers often fashioned containers with a profusion of holes. Or, if the occasion demanded, tubes could be built into the structure of the vessel to serve the same purpose.
Sung Dynasty (approximately 13th century)
Imperial Kiln Flower Vessel
This green porcelain vase, impeccably crafted with an eightpetal lotus pattern, is a fine example of tile pottery produce at tile imperial kilns during tile Sung Dynasty. A unique feature is the hollow tubes at center, into which branches or other parts of a floral composition were inserted. The petite lotus-leaf decorations embossed on the outer surfaces of these tubes also contain a small slot for this purpose. These unique features make this vase one of the most practical, as well as lovely, flower vessels of ancient China.
Five Mountains Soaring Heavenward Vase
This piece is an imitation of works produced by the imperial kiln during the Sung Dynasty. Most vases of this type contain five holes, symbolizing China's five sacred mountains, and were used primarily in sacrificial offerings of flowers to heaven. Though this vase contains an additional large hole at center, it also belongs to the "five mountains" category.
Sung Dynasty Flower Vase Stand
This flower vase stand, made of fei ching porcelain, was produced by the Lung Chuan kiln during tile Yuan Dynasty (14th century). Consisting of two sections, tile stand was used banquets or in grand halls to hold vases with a pointed end, so that they would not tip over. In case a vase wide-bottomed, the upper section of the stand was removed and the lower half served as a base.



[preface] [ styles] [religious] [palace] [literati] [folk] [9 pricniples] [significance] [preveration] [vessels] [appreciatin]
[Pavilion of Taiwan, R.O.c] [Cultures] [Council For Cultural Affairs]