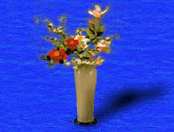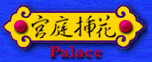 Palace Flowe Arrangement
In earlier times, decorative flower arrangements were often found in the homes of high-ranking officials and other dignataries as a display of wealth and honor. Indeed, by the time of the Sung Dynasty, these ornate floral creations had become an almost indispensable part of the decor in such households.
The most elegant flower displays could be found in the house- holds of the highly placed on the "birthday of the flowers" in the second lunar month of each year. Thousands of brightly colored flowers, arrayed in stunningly decorated vases and containers, vied for the attention of the visitor. Though peonies and chrysanthemums were old favorites, there was always a liberal sprinkling of camellia, narcissus, mei flower, jui hsiang, pine, and cypress. Known as palace-style compositions, these works were noted for their layered, multidimensional look, enormous size, vivid color, dense branches and leaves, and sumptuous, full-bodied structure.
Yuan Dynasty (14th century) Full-Bodied Plate Flowers
Flower: Peonies
Vessels: Bronze
Flower style: Full-bodies plate flowers
The influence of the Sung Dynasty remained strong during the early years of the succeeding Yuan Dynasty, and palace flower compositions still retained many of the characteristics of the majestic intellectual flowers of the Sung. This arrangement consists of a large bronze plate into which more than ten peonies of different size, color, and type have been inserted. The sizes of the plate and flowers are in the ratio of one to two. Upward thrusting leaves and branches, though numerous and abundant, retain a tight discipline and order in this lush, lovely classical flower arrangement. The stately elegance of the container's surface design is complimented by the downward sweeping bronze rings, relieving the squat, massive sensation characteristic of bronze flower vessels.
Sung Dynasty (early 13th century) Basket Flower Arrangement
Flower: Camellia, narcissus, mei flower, jui hsiang
Vessel: Rattan basket
Flower styles: Classical, ful-bodied court style
The container in this composition, made of impeccably woven, exquisitely designed rattan, holds the type of lush, abundant flowers that have always been the hallmark of the Sung Dynasty plate flower works. At the center of attention is a large red camellia unfolding in all its early-spring glory. And on either side are arrayed numerous smaller flowers, whose upward or downward thrusting branches each evoke their own unique aura or mystique. The exquisitely elegant blend of color is a common thread in all classical flower arrangements.
Sung Dynasty (early 13th century) Basket Flower Arrangement
Flower: Osmanthus
Vessel and accessories: Porcelain vase and vase guard
Flower styles: Intellectual style
This composition is a good illustration of the intellectual style of study room flower arrangements. The branches, of varying length, are all shorter than the vase. Three sprigs make up the basic structure. The leaves thrust upward and downward as if seeking to avoid regularity. Besides providing protection, the vase guard also serves an aesthetic function.




[preface] [ styles] [religious] [palace] [literati] [folk] [9 principles] [significance] [prsveration] [vessels] [appreciatin]

[Pavilion of Taiwan, R.O.C] [Cultures] [Council For Cultural Affairs]