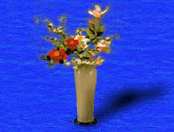 Literati Flower Arrangement
The literati style of flower arranging originated during the Tang and Sung Dynasties but reached its apex during the Yuan and Ming Dynasties, when it was influenced by Zen Buddhist and Taoist theologies. The most famous masters of those times include Sung Hui-tsung, Su Shih, Yuan Hung-tao, Cheng Hung-shou, and Chang Chien-teh. Their works were frequently displayed in the hails and studies of scholars, hence the name "literati," Literati compositions were noted for their originality and polished sophistication, and were usually crafted from such durable materials as pine, bamboo, and the plum tree, and flowers like the chrysanthemum, orchid, lotus, osmanthus, and narcissus. Most floral artists employed only one of these media, although some used as many as three in combination. Receptacles were chosen with a view to their grace and simplicity, and were commonly made of bronze, clay, porcelain, and simplicity, and were commonly made of bronze, clay, porcelain, and bamboo. The sparse, uncluttered structure of literati compositions - both flowers and branches were kept to a minimum - placed a premium on understatement and refinement, and xpressed their themes by means of sharp, dear, and vigorous lines and curves.
Sung Dynasty (13th century) Basket-Style Hanging Flower Arrangement
Flower: Orchids
Vessels: Bamboo basket
Flower style: Basket-style hanging flower
The flower container in this arrangement is a basket, which may be hung or displayed in the ordinary manner. Within is a dish filled with water, containing two fragrant orchid sprigs of differing height and three orchid leaves. Dominating the entire composition is a single orchid rising from the center to a height twice that of the basket. The flowers bend gracefully toward the right and the artist has provided an air of fresh bucolic charm by painting three bees buzzing in their midst. This composition is an original of the Ching Dynasty realist school.
Yuan Dynasty (13th century) Hanging Basket Free-Style Flower Arrangement
Flower: Silver and amber osmanthusí@
Vessels: Basket guard, porcelain jar
Flower style: Hanging basket free-style flower
A woven bamboo basket lends an air of old-time elegance to this composition Two green glazed porcelain vases supported by the lower basket frame are filled with silver and amber osmanthus petals, with leafy green stems providing balance. The osmanthus branches are curved at three points in the form of scepters or ju i, and rise gently upward in a gesture of light, airy grace.
Late Ming (17th century) Neoclassical Hall Flower Arrangement
flower: Mei flower, Camellia, magnolia, narcissus, orchid
Vessels: Porcelain vase
Flower syle: Neoclassical
This work combines many varieties of flowers. Stems are short, perhaps two inches less than the height of the ,towering porcelain vase fired at the Chun Kiln. A large red camellia serves as the centerpiece and inclines toward the left. The soft-hued flowers to the right are supported by a series of vein-like branches interwoven into a loose latticework. A curvilinear branch stucture thus blends with lovely color patterns to produce a work of quiet, understated elegance.




[preface] [ styles] [religious] [palace] [literati] [folk] [9 pricniples] [significance] [preveration] [vessels] [appreciatin]
[Pavilion of Taiwan, R.O.c] [Cultures] [Council For Cultural Affairs]