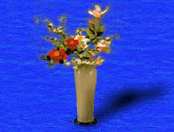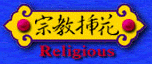 Religious Flower Arrangement
Chinese floral arrangement has its origins in Buddhist religious practices. In one of "four sacrifices" known as the "floral offering," a member of the faithful places a selection of flowers at the feet of an image of the Buddha. In one version of this ceremony called "spreading flowers," lotus petals or paper cut into floral patterns is loosely arrayed in a cylindrical basket before the Buddha. In a second varient, known as a plate flower arrangement, a thick bouquet of fresh flowers or flower petals is placed in a shallow vessel and set before the Buddha. There is a/so a "vase offering" in which the flowers are placed into a vase filled with water and presented to the uddha. The vase offering was one of the very earliest floral arrangements to make their appearance in ancient China. Among early historical annals, the "Biography of Tzu Mao, Duke of Chin An" in the Annals of Southern Chi notes: "When offering lotus flowers to the Buddha, most monks place them in a bronze pitcher filled with water and trim the stems to delay the withering of the flowers." In later years, this practice became incorporated with other styles and evolved into the saucer flower arrangement popular in Buddhist monasteries during the Tang and Sung eras. In general, the plate flower arrangement was used for flowers in full bloom or those with large heads, while the vase arrangement was preferred for long-stemmed flowers with small heads. Lotus flowers and peonies were the favorites of religious flower arrangers during the Tang Dynasty. Following the Sung, selections were made from a much broader category, with flower forms emphasizing dignity, stateliness, and symmetry.
Tang Dynasty Offertory Flowers
Flower: Lotus
Vessels: Porcelain plate
Flower style: Offertory flowers for religious ceremonies
Plate flower placed before images of the bodhisattva are descendants of the offertory flowers or potted plants presented to the Buddha in earlier times. Plate flowers and vase flowers, which gained popularity during the same era, consist mainly of large-headed flowers with short stalks, such as the peony. Such arrangements are marked by a simple, three-branch structure. In the case of flowers with very large heads 0or vivid colors, three leaves are added to provide a triangular balance.
Tang Dynasty Buddhist Religion Offertory Flower
Flowers: Lotus
Vessels: Porcelain vase
Flower style: Offertory flower arrangement
The lotus blossoms arranged in the Indian-style vase held by the goddess Kuan Yin are a varient of the buddhist offertory flowers and are one of the earliest types of Chinese flower arrangement. Flower buds, the major floral component located at the center, rise about two inches beyond the lip of the vase. On either side is a tender leaf, sloping gently upward to produce the triangular formation that is the hallmark of many Oriental flower compositions. The form and color are simple and unpretentious, yet suggestive of intense inner strength and vitality.
Ming Dynasty Meditation Room Offertory Flowers Arrangement
Flower: Lotus water plants
vessels: Porcelain vase
Flower form: Freee style
Plain offertory flowers have been highly popular as decorations in the meditation chambers of monasteries throughout Chinese history. Most compositions make use of short, dimunitive branches and a loose, airy structure to impart a sense of noble majesty and refinement. They generally consist of three elements: the host a rightward leaning trunk branch which conveys a feeling of motion; the guest a thicker, heavier secondary branch as an element of stability; and the retainer a shaft of grass to balance out the composition and provide decorative



[preface] [ styles] [religious] [palace] [literati] [folk] [9 pricniples] [significance] [preveration] [vessels] [appreciatin]

[Pavilion of Taiwan, R.O.c] [Cultures] [Council For Cultural Affairs]