Takeshi Mizukoshi$B!w(BMt.Fuji
Mizukoshi Shot Fiery Mountain

"Beautiful, but Mt. Fuji has a scarey side as well."
Winter 1996


Japan from the ecosystem perspective is a central theme of Mizukoshi's works in 1996. Through his works, Mizukoshi shows us the symbiotic and close relationships that exist between creatures that at first glance appear totally independent. Even the darling of tourist shots, picturesque Mt. Fuji, has a totally different character once seen through Mizukoshi's camera.




"People take photos for Mt. Fuji's symmetrical shape, as seen far from the mountain. It really is a beautiful mountain. On the other hand, it's a dangerous and frightening mountain. I have wanted to shoot the different characteristics of Mt. Fuji, from different angles, and not only its beautiful shape. It is my approach to capture nature as it is in my photos."

interviewed by: sensorium staff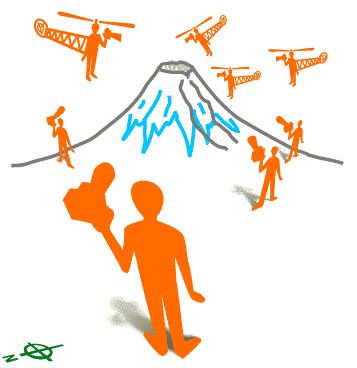 [The Crater]$B!!(B
[Near the Top]$B!!(B
[Close View Near the Top]$B!!(B
[The Yoshida Osawa Valley]
[South West of the Tree Line]$B!!(B
[North East of the Tree Line]
[The Climbers' Half-Way Point]$B!!(B
[The View from Mt. Kitadake in Japan's Southern Alps]

Enter your opinions, comments and questions in the comments page.
To register to receive updated information about sensorium, please go to the Frequently Asked Questions (FAQs) page.
[Mizukoshi Shot Subtropical Winter]
[map page of sensing Japan]