What's New in January
January 25
The Food & Markets Pavilion has added Mimi's Cyber Kitchen and A Basket of Herbs. The Thailand and Kazakhstan markets have been delayed a bit because of not enough hours in the day, but we've filed for an extension to 28 hours and those pavilions will be coming along shortly!
The Art & Music Pavilion is now open! Visit 3D Fax Art, The Pixel Pavilion, Open Studios Digital VOODOO, Phreeworld, and The Hitlist.
The Web Pavilion, Small Business Pavilion, and and World Cultures Pavilion are now open! More central theme areas will be added as we find people wanting to register similar sites. Please! Don't just ask us to link to your home page. This is a world exposition ... how about preparing something for the fair?
Slovenia is now open, featuring the Yellow Internet guide to Slovenia! Spain has added the DREAMS Factory, featuring the latest in design and technology! Thailand has just added the Tourism Authority of Thailand ... visit the Land of Smiles!
January 18
The World Exposition has been officially blessed as a Cool Site of the Day! Just as cool are some of our new graphics -- check out Bandwidth Junction, yet another creation of Master Artisan Rob Pierce.
We're becoming more respectable every day! Check out the new letters of support from President Árpád Göncz and Prime Minister Gyula Horn of the Republic of Hungary, President Askar Akayev of Kyrghyzstan, and Pasqual Maragall, Mayor of Barcelona.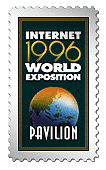 You can now stamp your pavilion with our Official Stamp.

Expo Radio is on the march again. Listen to a 2-part interview on Palmistry with Dr. Dilip Kumar Roy and listen to Young Artist Winner Sean Hennessy play the Sonata for Trumpet by Henry Purcell.
Two new Pavilions have been opened. Check out the Medical Pavilion and the Family History pavilions. Both pavilions were grass roots efforts ... loads of people wrote in both areas with real URLs. A pavilion is born! We're running a little behind on processing requests so we sure appreciate your patience!
The India Pavilion now features a beautiful electronic magazine devote to Reflections of India. India has been joined by three new countries in the fair: France, Hungary, and Belgium. The Germany Pavilion has added a very nice Bavarian Server. Let's see those pavilions develop!
January 4
The fair is now politically correct! The Low Bandwidth version of the fair works on Lynx, AOL, Prodigy, and most other browsers that don't have table support. You might also use the Low Bandwidth version if you are on the end of a slow modem. The High Bandwidth version of the fair is the default if we can't figure out what kind of browser you have. If you have an old version of Mosaic or one of the Mosaic Mutations, or an old version of the Microsoft browser, we gently remind you that it might be time to upgrade. We don't mean any disrespect to your personal choice of browser ... let us know if we land you in the wrong area.
A formal letter of support has been received for the region of Taiwan, Penghu, Kinmen, and Matsu from Premier Lien Chan. He joins leaders from regions that include the United States, Russia, and many other regions.
Japan is up! Visit the Japan pavilions and check out the Fish Market and the Sensorium. Japan is going to have a killer presence in the fair this year ... this is only the beginning!
January 1
The Internet 1996 World Exposition is up and running. But, you already knew that, didn't you? Thanks to Enviromedia for the great home page designs! The killer train on the home page is courtesy of Rob Pierce of Pierce Productions.
India's Durga Puja Festival is open. Visit us and learn about Calcutta's most important religious festival.
Come visit Expo Radio for interviews with people that help make the fair a real world experience. Our first two interviews feature Uma Guha, an Indian musician and Germaine Swanson, a Washington chef with her own unique version of Vietnamese cuisine. Stay tuned for more programs throughout the year.