V o i c e s  f r o m  t h e
        1939 New York World's Fair 



April 30.
"The World of Tomorrow" became reality today when the New York World's
Fair opened to the public. President Franklin Roosevelt formally dedicated
the exposition in a speech to 600,000 listeners in a chilly spring breeze.
In a short address the President served notice that the nations of the western
hemisphere were "united in a desire to encourage peace and good will among
all nations".
Now slowly, very slowly, the famous New
York Skyline comes through the mist. At first
it looks like one of those scenes in stenciled
cardboard fashionable in the London theater
just after the war. Here I have the same
experience as Mr. Bergeret's little dog,
Riquet: 'As I approach an object I grow less'.
Soon the spectacle becomes overwhelmingly
grand: I am now no size at all.
James Agate, My American Journey, 1938

"The greatest display of all was New York
City Itself, with its 7,454,995 inhabitants."
One of Mayor La Guardia's opening remarks.

The long wait for the President was a bit hard
on Commissioner Valentine's valiants. With
nothing to eat since 6 A.M. A 200-pounder
in the line keeping fairgoers out of a closed
area, stared at a little boy wandering by" if he
wasn't with his old man," he said to a fellow
policeman " I'd hijack his apple on a stick"

A thing like a Fair. Go to one at night, and
stand a little way off from it, in a dark place,
under dark trees. You'll see a big wheel made
of lights, turning in the air, and a long stair
shoots down into water, a band playing
somewhere, and a smell of peanuts, and
everything will twinkle. It will all just hang out
there in the night, like a colored balloon, like
a big yellow lantern on a pole.
- F Scott Fitzgerald -

"So the visitor who wants to get the most out of this
World's Fair will do best to regard it not as a show
of things but as a collection of hints and let his
imagination off the leash of discretion for a bit."
- H. G. Wells, excerpt "World of Tomorrow" -
- New York Times, March 5, 1939 -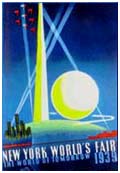 1939 New York World's Fair
"The World of Tomorrow"
May 1, 1939-1940
Cost $155 million
Adult admission - 75 cents
Under 12 admission - 25 cents
57 million Visitors
1,216 acres
- Features -
Sally Rand's Fan Dancing
The Parachute Jump
Amusement Zone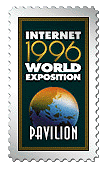 Feedback at the fair [Feedback Form] [Mail] [Guestbook] [Participating]
Feedback at wwwVOice [Questions] [Answers] [Mail]

"Chronicle of America" Editorial Director Clifton Daniel, 1995 Dorling Kindersley
Directory, from the foyer of New York's Film Center (architect, Ely Jacques Kahn)
Newspaper clip from the New York Times Monday, May 1, 1939.
Other sources "The New York Times"
Site Design 1996 Erich Voice