V o i c e s  f r o m  t h e
          1933 Chicago World's Fair



May 27, 1933:
"I welcome the celebration you are now beginning. It is timely not only
because it marks a century of accomplishment, but it comes at a time when
the world needs nothing so much as a better mutual understanding
of the peoples of the earth"
-President Franklin D. Roosevelt, excerpt "message to the fair" -
The President was unable to attend the opening ceremonies.

For Chicago, as most of those who will go there this Summer must already
suspect from what they have read in the newspapers, is itself a show that
would be worth while paying admission to if it could not be seen for nothing.
- R. L. Duffus "Chicago: A Stupendous show in itself"
- New York Times June 11, 1933 -
"There is no harm and certainly no injury to
public morals when the human body is exposed,
some people probably would want to put
pants on a horse."
-Superior Judge Joseph B. David-
- July 19, 1933.-
Comments regarding a case brought before the
judge that claimed certain performances at the
Century Of Progress Exposition were "lewd,
lascivious, and degrading to public morals."
As the Judge's final observation " When I go
to the fair, I go to see the exhibits and perhaps
to enjoy a little beer." As far as I'm concerned,
all these charges are just a lot of old stuff to me.
"Case dismissed for want of equity."


"Fandancer" Sally Rand
"They planned this fair to bring business to Chicago, into the Loop.
But you could have fired a cannon down state street and hit nobody,
because everybody was out at the fair"
- Sally Rand -

"I doubt the mayor is a reliable weather vane when it comes to art and morality"
- Manager of the Oriental Village after mayor Kelly turned "bashful pink" at seeing
women dancers scantily clad in "purely hypothetical costumes"-

"Maybe it isn't so healthy being World's Fair Mayor of Chicago.
Two of them have been shot you know"
- Mayor Kelly 1933 -
"Hey Katie, look what this
poor woman got from drinking
3.2 per cent beer."
-Alfred E. Smith -
October 23, 1933-
Speaking to his wife in the
Fair's Electrical Building.
The object of Mr. Smiths Joke
was a wax figure of extremely
generous proportions with
which a massage machine
was demonstrated.
"The much-criticized Hitler government has no intention to Germanize
anyone, Hitler literally has said that all this talk of Germanizing has to be
stopped once and for all."
- Germany Ambassador Dr. Luther October 27,1933. -
- Dinner speech at the Chicago Medinah Temple -

"I am wishing everyone has a chance to see the Century Of
Progress and the advance shown since the World's Fair of 1893."
- President Franklin D. Roosevelt during his visit to the fair October 2, 1933 -
As his final act before boarding his train, President Roosevelt went to the Bohemian
Cemetery to lay a wreath on the tomb of Anton Cermak, former Mayor of Chicago,
who died the victim of bullets intended for Mr. Roosevelt fired by an assassin
in Miami last February. The pedestal of Mayor Cermak bears the inscription,
"I'm glad it was me instead of you,"
the words uttered by Mayor Cermak when he regained
consciousness after having been shot.
- Source: New York Times October 3,1933. -
Anton Cermak died in Miami on March 6 1933.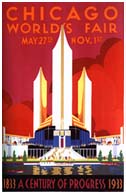 1933 Chicago World's Fair
"A Century of Progress"
May 27, 1933 - October 31, 1934
39 million Visitors
47.4 acres
- Features -
Sally Rand's Fan Dancing
The Skyride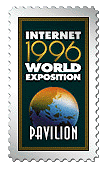 Feedback at the fair [Feedback Form] [Mail] [Guestbook] [Participating]
Feedback at wwwVOice [Questions] [Answers] [Mail]

"Chronicle of America" Editorial Director Clifton Daniel, 1995 Dorling Kindersley
Directory, from the foyer of New York's Film Center (architect, Ely Jacques Kahn)
Rand quote: Chicago The Glamour Years Aylesworth
Sally Rand picture: Bettmann archive
Other sources "The New York Times"
Site Design 1996 Erich Voice