DIANA DEAN.
---
---
---
These finely composed oil paintings with many layers of glazing give a depth and luminosity of colour which invites the viewer to many hours of discovery into the spacial and inner environment.
The Banquet part 1.
The first of 8 paintings based on the octave with two inserts (representing the entry of the spiritual search.) occuring at the intervals between 3,4 and 7,8.
Part 1. is the storyteller with Dante' and Beatrice at the head of the table of festive activities.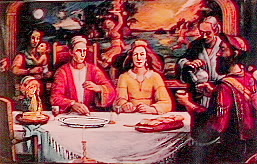 81.5" x 54.5"... $12,000
---
Afternoon tea with one Raja.
The two figures seated on an octagonal bed representing matrimony and self reflection in the opposite. On two seperate canvasses joined as one.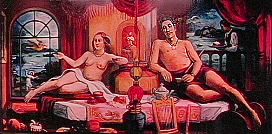 129" x 54.5" ...$16,000
---
Diana Dean has had thirty years experience as an artist with numerous exhibitions in England and Canada with collectors in both countries.(See Canadian Who's Who).She received a Diploma in Art & Education,Distinction in sculpture, from the Bath Academy of Art,Corsham England.
AWARDS:
Jurors Choice "Look'94 for images and objects Xll.
Purchase prize,Mid -Pennine National Sculpture Exhibition,England 1971.
Sculpture Commission,Castleford Civic Centre,England 1970.
First Prize,Association of International Artists Group Sculpture Show London England 1965.

---
EXHIBITIONS:SOLO:
1995-1978 Seventeen solo Exhibitions,Nancy Poole's Studio,Toronto.
1994 Winchester galleries Victoria B.C.
1993 Soho Bistro,One Woman Show Victoria.
1991 Vortex Gallery Saltspring Island B.C.
1977 Studio Exhibit.
1976 Studio Exhibit.
1966 Sculpture Exhibition,Association of International Artist's Gallery,London England.

---
EXHIBITIONS:GROUP:
1994-1995 "Hidden Values"Ontario Corporations Collection.
1994 Mc Michael Canadian Art Collection.
1994 Wilfred Laurier University art Gallery.
1994 Invitational Nancy Poole's Studio Toronto
1994 "The Noble Gesture"Figurative works from the Du Pont Collection,Art Gallery of Mississauga.
1994 B.C.Festival of the Arts,Campbell River.B.C.
1987 "Personal Vision in Landscape"Cambridge Public Library Ontario(Catalogue).
1987 "Canadian Genre"Memorial University Gallery,St Johns Newfoundland(Catalogue).
1983 Two Person Show Surrey Art Gallery(Catalogue).
1981 Works on Paper London Regional Art Gallery.London Ontario.

1978 York Gallery Ontario.

---
Jacob the New Age Man.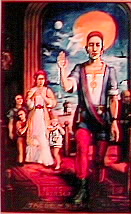 Confederation Centre Museum and Art Gallery P.E.I.
Du Pont Canada Inc.
Canadian Paraplegic Association.
Norcen Corporate Collection.
Canada Council Art Bank.
Owen's Art Gallery,Mount Allison University N.S.
Texaco Canada Inc Collection.
Lancaster University England
Northern Arts Assoc.(British Arts Council).
Royal Bank of Canada Corporate Collection.
Teleglobe Canada Collection.
Collection Bram Garber.
Glaxo Canada Inc.
The Blackburn Group.
Borden and Elliot.
Connor Clark & Co Ltd.

---
Art Related Activities:
1994 Donation Silent Auction,Friends of Clayquot,SaltSpring Island.
1992 Donation Raffle,Art Spring Art Centre.(Approx Value $16,000).
1992 Donation Western Canada Wilderness Committee.Carmanah book.
1991 Founding Member Vortex Gallery SaltSpring Island
1986 Donation Auction Amnesty International.
E-MAIL DIRECT: (Diana Dean ) art@saltspring.com