DIANA DEAN.
---
---
---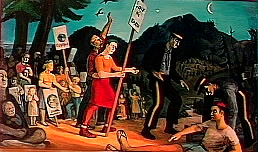 I am pleased to inform you that I am in the process of having my first Fine Art Reproduction printed.This is to be taken from my painting
"Clayoquot-The Morning of the Night Watch".
The painting was done after my experience of riding in a coach packed full of artists driving at great speed through the bush, arriving at the demonstration site at 4:oo in the morning.There I watched the sun slowly rise, bringing the first logging truck and the police to begin the day's work.The demonstrators sitting or lying in the road were slowly removed in an orderly proceedure by the police.I made quick sketches while barely being able to see my drawings in the still, dark morning light.
This painting was done that day, to honour the people who bravely jeopardized themselves and their families to prevent the further destruction of our ancient forests.
If you would like one of these reproductions please let me know so that I can set one aside for you.