Information
---
---
Museum People
---
Kenji Saito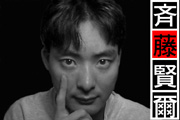 Kenji Saito is the director of Musée Psyché and also is the only artist providing the works of art to the museum today. He regards himself as a painter, photographer, musician, writer and a net.hunter. His favourite quote is, now that he visited William Morris exhibition at V &amp A, "Have nothing in your house which you do not know to be useful or believe not to be beautiful." His former favourite quote was "Have nothing in your house."
Kenji was born in Kyoto, Japan in 1964. He received his B.A. in Indian Philosophy from Toyo University in 1988 and his M.Eng in Computer Science from Cornell University in 1993. He has been working for a leviathan Japanese company as a software engineer since 1988, and he dreams to be a stand-up comic someday. An obvious schizophrenic.
In this picture, Kenji is doing his favourite impression of Ninzaburo Furuhata, a character from the Japanese TV series of the same name. While many people who saw this picture at Swatch net.hunt winners page took it as a nice portrait, this is actually meant to cause laughter.
Kenji Saito is a member of Information Processing Society of Japan, Macclesfield Snooker Club and Walt Disney's Magic Kingdom Club.
---
Always under déconstruction



Copyright © Kenji Saito, 1996