What's New in February
February 20
The main central park server was down for two days due to complications from an upgrade of our disk space. We rerouted some of you to the Japan server, but you might have noticed a few centralized functions like the Guestbook failing. Until we figured out how to reroute you, some of you got the dreaded "unable to connect to host" message. Sorry about that!
The 50th Anniversary of the Computer celebration was a big success! IBM's Small Planet Pavilion swallowed 7 million hits per day during the Kasparov match! A set of SP2 supercomputers, the same kind that IBM is donating for the Japan Central Park site, were used to handle the load.
February 9
There was such huge crowd of people trying to register from Spain that we were totally overwhelmed! Check out the new Spanish Pavilion featuring a scrolling java applet (courtesy of Darrick Brown). If you click on the text in the applet, you'll be transported to that pavilion. You might also want to check out the nice article in Spanish about the fair, courtesy of NET conexión.
We're now working on ways to let you autoregister your pavilion. Stay tuned ... there has to be a way to automate this. Thanks for the patience of all you waiting in the queue to become part of the fair!
February 8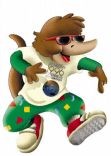 We're open!! The Internet 1996 World Exposition is officially open. Meet Pipo, our mascot. Over the next few months, you'll start seeing Pipo walk and talk all over the fair grounds, serving as your world's fair tourguide! Thanks to Nick Gressle for the very cool character design! Rob Pierce, our trainmaster is at it again, making the Expo 96 train come alive. Click here for a 26 megabyte AVI movie that gives you a glimpse of some serious train action coming down the pipe!
24 Hours in Cyberspace is up and running. Become a part of history and paint your pages on the digital wall! Don't forget to check out the first cool sweep of cyberspace, the MIT Media Lab's A Day in the Life of Cyberspace.
Lots of cool corporate sponsor pavilions are starting to pop up (and we're not just saying that because they've been so generous). Check out
There has been major activity in getting regional pavilions up and running. Say hello to the Philippine Pavilion and take a look at the new look for Korea!
Taiwan is planning a major celebration on February 9 to celebrate the opening of their pavilion. Look for 5 mega-places in the real world where people can come see the fair, participation in the opening the ceremony by the President, Prime Minister, and several government ministers, and a huge increase in on-line content! Check out the letter of support from President Lee!
Central Park is up and running! Thanks to our brave team of Network Operating Team volunteers and engineers, led by Brad Burdick of UUCOM! If a user comes in from England, Korea, Australia, or London, the fair automatically redirects them to the appropriate machine. If you want to try this yourself, try clicking on http://park.org/ and then try http://japan.park.org/ and look at what you see.
The Internet Railroad is up and running! Thanks to Robin Littlefield and Marten Terpstra from Bay Networks who led a large NOT team including representatives from MCI, KDD, MFS, and other companies. This is the fastest international link in Internet history, running at 45 million bits per second between Tokyo and Washington, D.C. More Railroad links are in the works!
Japan has started using the Internet Railroad with the University of the Future program. The students at South Fujisawa Campus of Keio University were choosen as first University of the Future in recognition of the model learning environment at this state-of-the-art campus. What do they get for this honor? The campus gets exclusive (if you don't count Central Park traffic) use of the Internet Railroad for 3 weeks! Additional Japanese Universities will be named in March as part of this program.
The official fair brochure is now available! You can see the ace design work of Becky Pranger of Enviromedia in action. The fair brochure uses PDF files and is available here. If you speak Spanish, check out our Spanish Brochure, courtesy of Josep Saldaña director of NET conexión.