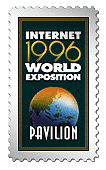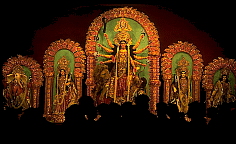 The Durga Puja
The sprawling sea of humanity that lines the banks of the Ganges at India's eastern edge, the City of Calcutta, sparkles in strings of electric lights of every color under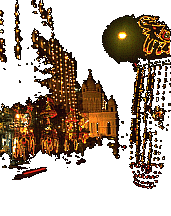 the black velvet of a clear night.
Unnumbered "mics"--metallic speakers driven
to a seizure of clipping, force out an endless droning melange of film music swimming in an acoustic jungle of traffic noise, drumming and announcements. The streets are alive with people, drummers from the hinterland villages, expatriots visiting family and friends, people off to visit a neighborhood pandal; a glittering but temporary temple which serves as the focal point of the celebration. The shops are busy, and new clothes and new shoes are everywhere in evidence.
It is the time of the Durga Puja, celebrating the ten-armed goddess of fertility and plants and the third embodiment of the Devi, Durga. It was Durga who vanquished the buffalo-demon Mahish. Ironically perhaps, Mahish may have founded the Durga Puja when upon learning of his impending demise at the hands of the goddess he said:
"Durga, I have dreamed of you and in the dream I worshipped you. I will be glad to die in your hands. I only ask that you ensure that along with you I am worshipped by all."
Durga replied,
"In three of my forms you will forever be at my feet and worshipped by the gods, by humanity, and by demons."
The Durga Puja Directory