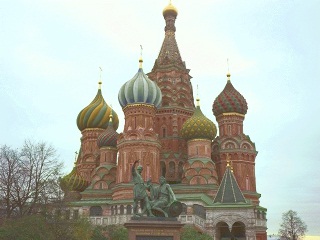 Courtesy Herbert Groot Jebbink.
Moscow's Churches
Moscow is filled with beautiful churches and cathedrals in the Russian onion-domed style. You may wish read first the description of the early history of Russian Orthodox church and architectural styles of Russian churches.

Churches and Monasteries around Moscow
Please note that connection to SunSITE server in the Moscow State University is slow.
---
---
(about 50km to the north from Moscow).

---
If you know a hyper-link to a relevant site not mentioned here, please inform !

---

Back to All Regions of Russia in Pictures.

Back to Pictures from Moscow.