Literature
---
No Life King - Psyché Mix
The same world, a new reality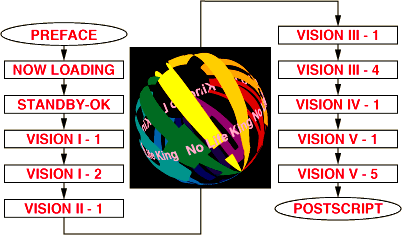 PREFACE | NOW LOADING | STANDBY-OK | VISION I-1 | VISION I-2 |
VISION II-1 | VISION III-1 | VISION III-4 | VISION IV-1 |
VISION V-1 | VISION V-5 | POSTSCRIPT
Good luck.

---
"No Life King" is one of the best-selling novels in Japan written by Seiko Ito. He has abandoned his copyright regarding the English translation of the novel as long as it is used within electronic networks, making it a public domain novel. The whole text is now downloadable from his site WATCH SEIKO.
Musée Psyché took the liberty of rearranging the whole text into an HTML document, which is now downloadable from this page as Psyché Mix version of "No Life King."
In addition to that, Kenji's Fortune Cookies at Café Psyché, our museum café, features remixed phrases from "No Life King" from 16/Aug/96 through 31/Aug/96.

---
Always under déconstruction



Copyright © Kenji Saito, 1996