Singing Tree Tech Specs
The interface for each Singing Tree contains a microphone, an LCD screen, and speakers. One person at a time can walk up to the Singing Tree dome. The structure gives acoustical privacy to the singer as the fluctuations of the singing generate a musical aura. Our software measures pitch, vowels, steadiness, and volume, and then interprets the variations musically and graphically. There will be three Singing Trees in the Forest.

---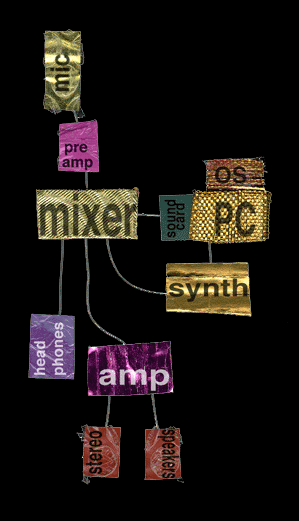 LCD screens donated by Earth Technologies display an image degeneration program by Ben Denckla, which responds to the variations of the singing voice.

Each Singing Tree holds an Electro-Voice 357 microphone.

A mixer at the center collects the microphone, and synth signals, and sends out music to the amp, headphones, and soundcard.

The signal is digitized by a Creative AWE 32 soundcard and sent to a PC running Microsoft's Windows NT.

The Singing Tree synthesizer is equipped with a 500 Mb hard drive for storing vocal samples.

The mixer sends out audio to a pair of AKG headphones, where the singer hears his or her voice mixed into the musical aura.

Outside listeners will hear only the aura, leaving the singer in privacy. The aura will be played over a pair of K-RoK studio monitor speakers by KRK Systems, Inc.

---
webmaster@media.mit.edu