K-RoK Studio Monitors by KRK Systems, Inc.
All of the speakers in the Mind Forest have been donated by KRK Systems, Inc., and their New York distributors, Group One Ltd. Below is information on the company, distribution, and the speakers themselves:

---
K-RoK Close-Field Monitors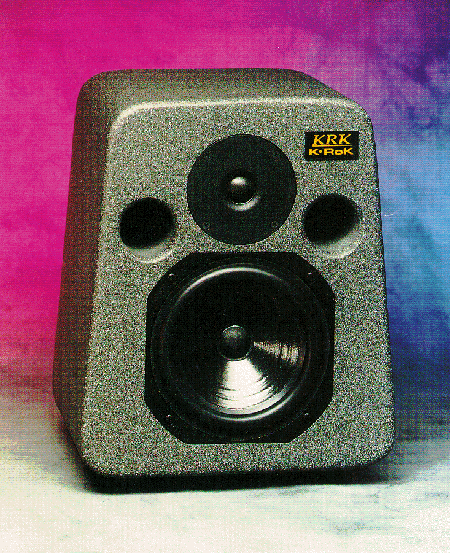 KRK is recognized world-wide as one of the premier manufacturers of reference monitors for recording and broadcast applications. The KRK K-RoK represents a new generation of close-field monitors designed for the home recording studio. The cost-competitive K-RoK delivers the smooth response and high power handling capability that have made KRK monitors legendary.

Designed to provide optimum performance, the components include a 7" proprietary latex-coated, long-stroke woofer and a 1" silk-dome tweeter. They are crossed over at 2.5kHz with a custom KRK network featuring hand-wound inductors and high-quality capacitors. The unique enclosure shape which minimizes parallel walls, was designed to produce better linearity and maximize the low-end punch. This provides extremely accurate reproduction of instruments and vocals. Speaker connections are accomplished via five-way binding post. Finished with an attractive, heavy-duty, textured-grey coating, the K-RoKs will provide years of dependable service.

---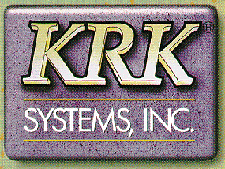 KRK Systems, Inc. Company Profile
Founded in 1986 in Huntington Beach, California by Keith Klawitter, KRK Monitoring Systems was created in response to a demand to develop a superior reference monitor for studio applications.

Klawitter, president and chief designer at KRK, had previously worked as an independent recording engineer at many of the major recording and film studios in Hollywood and has gained numerous credits on films including Brainstorm and The Doors. During these projects at Paramount, Universal, Metro/Goldwyn and MGM, Klawitter became disenchanted with the performance of the available monitoring systems and began designing a system that would provide the smooth response he needed as an engineer. After early prototypes had been taken to various studios to gain valuable input from other top engineers, the KRK reference monitor became a reality.

KRK's phenomenal success can be attributed to a unique combination of exotic driver materials, a proprietary crossover and stylized cabinet design. Each driver is extensively tested and pairs of monitors are matched to within 1/10 of a dB. This demanding testing results in no out-of-box failures or mismatched pairs.

Today's product offering includes a full range of monitor systems for every application and size requirement, from the tri-amped, double 15-inch Model 15A5 to the diminutive K-RoK. These systems are bing used in many of the world's top recording facilities. Options for selected models include video shielding, integral power amplifier, rack-mount and Omnimount. Products are continualy upgraded when superior materials and technologies become available.

---
K-RoK Product Specifications
Drivers: 7" latex-coated woofer with 1" silk-dome tweeter
Crossover: Passive two-way
Crossover Point: 2.5 kHz
Frequency Response: +/- 3 dB, 57 Hz - 19 kHz
Sensitivity: 92 dB (1 watt @ 1 meter)
Max Power Handling: 100 watts
Max SPL: 106 dB
Nominal Impedance: 8 ohms
Cabinet Dimensions: 14" x 12" x 9.75"
Cabinet Finish: Custom gray texture
Shipping Weight: 36 lbs. per pair

---
Distribution
Group One Ltd.
East Coast Office
(516) 249-1399
(516) 753-1020 (fax)

West Coast Office
(310) 306-8823
(310) 577-8407 (fax)

KRK Monitoring Systems
16612 Burke Lane
Huntington Beach, CA 92647
(714) 841-1600
(714) 375-6496 (fax)