The Development of Insect Flight
and Other Fascinating Displays

---
Welcome to the Hive!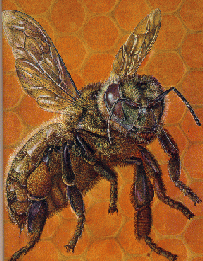 This cute little bee will be pleased to show you around. You'll find her on every page and can click her to get an index to the pages in this wing of the Hooper Virtual Micropaleontological Museum or click on the arrows to go to the next or previous exhibit.
---
Current Exhibits
Choose one of the options above to jump to a display, see an INDEX to this wing of the museum, or continue reading to start the tour.


---

Do you have any comments or inaccuracies to report? I would very much like to hear about them. These pages are intended for public consumption and some of the contents are, therefore, somewhat simplified or approximate. However, some it may just be wrong. This site will continue to grow in the future, so any suggestions about what may be added to the insect wing of this museum are welcome.
Fill out a comment page.

If you are interested in a detailed discussion of the field of insect evolution and particularly the development of flight, or if you are thinking of doing graduate-level research in this area, contact Dr. Jarmila Kukalova-Peck here at Carleton University, Dept. of Earth Sciences. She is one of the world's pre-eminent authorities in entomology and the evolution of flight in insects.



---

Use these buttons to follow or retrace the tour:






Click the button on the right to start the tour.

Go back to the HVPM Main Lobby.


---
Christian Damus, March 1996
email: cdamus@chat.carleton.ca