Ottawa-Carleton Geoscience Centre
and Carleton University Campus
Return to HVPM Lobby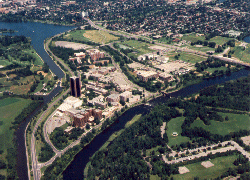 Carleton's 62-hectare campus, located in Ottawa, Ontario, is one of the most beautiful in Canada. Our campus is bordered by the Rideau Canal, Rideau River and on the opposite bank by the pleasant woods of Vincent Massey Park, making Carleton a place of water and green spaces.

Carleton's 27 buildings are arranged for convenient movement from class to class for its over 22,000 students. An extensive tunnel system eliminates the need for huddled dashes during winter weather and makes the campus particularly convenient and accessible for physically disabled students. You may choose to combine your Carleton visit with an excursion to Parliament Hill located a convenient 20 minutes away.

The Ottawa-Carleton Geoscience Centre, established in 1982, represents the combined research strengths of Carleton University and the University of Ottawa. Research facilities are shared between the two campuses and graduate students are enrolled in the University where their faculty supervisors hold appointments. There are currently 42 full time teaching/research faculty with an additional 16 adjunct professors. There are also numerous research and technical staff. Graduate enrollment stands at nearly 100 M.Sc. and Ph.D. students in most areas of geoscience.

Many areas of research are emphasized, each involving a major component of field work. These include invertebrate paleontology, Precambrian studies, tectonics, resource geology, northern studies, environmental geoscience, and geochemistry. The Derry/Rust Research Group for Sedimentary Resources and the Geotechnical Science Laboratories are research units in the Centre.
How To Find Us
From Hwy. 17 (Arnprior, Renfrew, Pembroke, North Bay and points beyond), follow Hwy. 17 to Ottawa, exit Bronson South, turn right at Carleton's entrance at Bronson and Sunnyside Avenues.

From Hwy. 7 (Peterborough, Perth, Carleton Place), Hwy. 7 to 17, through Ottawa, exit Bronson South, turn right at Carleton's entrance at Bronson and Sunnyside Avenues.

From 401 (Toronto, Kingston, Belleville, Brockville), exit Hwy. 16 (near Prescott), turn right in Ottawa at Prince of Wales Drive and Hogs Back, over bridge, left onto Colonel By Drive and right at Carleton's entrance.

From 417 (Montreal, Cornwall), 417 to Hwy. 17 through Ottawa, exit Bronson South, turn right at Carleton's entrance at Bronson and Sunnyside Avenue.
OC Transpo bus route schedules can be obtained by calling (613) 741-4390.
What We Offer
Tours offered daily, Monday through Friday. Year-round except exam periods (December, April).
Interviews with liaison representatives or faculty members by advance appointment when possible.
Residence for overnight summer accommodation, call (613) 520-5609.
It is advisable to report to Room 315, Robertson Hall at least 10 minutes before the scheduled tour.
This is a walking tour - remember to wear comfortable shoes and dress warmly during inclement weather.
What You Will See
Robertson Hall
Environmental Laboratories and Greenhouses
Physical Recreation Centre with Olympic-sized pool, fitness centre, squash courts and tennis courts.
Residences and Commons building where residence dining rooms offer full cafeteria dining services.
C.J. MacKenzie Buildings for Engineering and Industrial Design and the Minto Centre for Advanced Studies in Engineering.
Architecture Building
University Centre, popularly called the Unicentre, the social spot on campus.
The Quad, flanked on four sides by the Tory Building (biology and geology), the Dunton Tower, the MacOdrum Library, and Paterson Hall (arts and social sciences).
Southam Hall and Theatres A and B, and the Bookstore. Amphitheatre
Social Sciences Research Building
Loeb Building for social sciences.
Life Sciences Research Building
Herzberg Laboratories for physics, computer science.
Steacie Building for chemistry.
St. Patrick's Building housing the Schools of Journalism and Communication, Studies in Art and Culture, Social Work, Carleton University Art Gallery.
Information And Arrangements:
Student Liaison and Publication Services
Carleton University
315 Robertson Hall
1125 Colonel By Drive
Ottawa, Canada
K1S 5B6
Tel: (613) 520-3663
1-800-267-7366 (Ontario and Quebec)
TDD: (613) 520-4455
Fax: (613) 520-3847
Email: liaison@admissions.carleton.ca


Tours of the Department of Earth Sciences, Carleton University can be arranged by either visiting the departmental office in room 304 Tory or by phoning 613-520-4400.