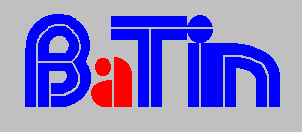 Go top
Profile
BaTIN is a subsidiary of The 3C Computer Communication Control Inc. which was established under the license Number 1801/GP-UB of The State Committee of Co-operation and Investment (SCCI) which now is the Ministry of Planning and Investment (MPI) dated 26 April 1995.

Register Number for Trading is 052075 dated 3 May 1995
Activities
Manufacturing, assembling and installing the computing products

Providing information over computer networks on science, tecnology, market fields.

Colsulting, exploiting and maintaining computer networks' equipments.
To reach BaTIN
Head office: 4A Ly Thuong Kiet Lane, Ly Thuong Kiet St., Hanoi
Phone: 844 265223
Fax: 844 256849
Director: Dr. Nguyen Quang A
Pacific R.I.M Limited Joint Venture
Pacific R.I.M Joint Venture is the co-operated project between BaTIN Co. Ltd and R.I.M Technologies Limited
(head office: 1/F, Tower 2, the Getaway, 25-27 Canton Road, Kowloon, Hongkong)
License Number 1465/GP by MPI dated 30 December 1995

Purpose of the Joint Venture Company

Establishing the software industry to develop, subcontract, market, promote, distribute and sell the Products and provide the Services and contents-based software products such as: Information Multimedia Products, WEB pages, databases, directories, corporate profiles, electronic commercial facilities.

Click on this icon to go previous