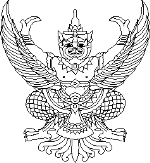 Ministry of Transport and Communications
Ratchadamnoen Nok Avenue
Bangkok 10100, Thailand

April B.E. 2538 (1995)
Mr. Carl Malamud
President, Internet Multicasting Service
The National Press Building, Suite 1155
Washington, D.C. 20045
Dear Mr. Malamud,
I am writing to congratulate you on your initiative to organize the Internet 1996 World Exposition. I am also pleased to learn that Thailand has already been involved in the form of a pavilion on Thai food courtesy of Ung Ang Talay, restaurant critic of The Bangkok Post.
Of special importance to all of us who are concerned with information access and communications throughout the world is the vision that should occur through the Internet 1996 World Exposition for global communications networking. I certainly support your efforts to raise public awareness as to the potential of these technologies and to enlist the involvement of engineers to focus their skills on technical issues to advance the technological possibilities.
As a member of the world community interested to share information about our culture, economic, educational, historical, and other national resources, Thailand will, I am sure, participate in the electronical global village conference in 1996. We will look forward to the interaction with other Internet community members, and I will take appropriate steps to encourage participation from our numerous Thai Internet subscribers.
You have my best wishes and encouragement with your planning efforts, and I look forward to the Internet 1996 World Exposition as a major telecommunications event in this decade.
Your Sincerely,

Dr. Vichit Suraphongchai
Minister of Transport and Communications
---