How to do it?
-- making Taiwan into an Asia-Pacific bastion of mandarin TV programs and movies and a key player in the East Asia's media market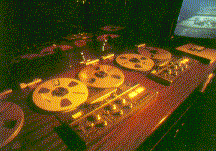 To produce and supply the Asia-Pacific region with high-quality TV programs and movies, we will start with improvement in both services and facilities. In terms of services, we will foster a conducive environment for media development. The tasks will include liberalizing satellite TV broadcast, strengthening the regulation of the cable TV industry, cultivating professional media talents, and easing restrictions on travels to the Chinese mainland for news gathreing, shooting, and producing programs.
In terms of facilities, we plan to set up a hightech media park. This proposal calls for the use of audio-visual and computer technology and the integration of upstream, midstream and downstream industries. Only when we join our efforts can we produce high-quality programs and movies and play a prominent rols in the Chinese language media market of the Asia-Pacific region.