Queen Mother of the West Riding a Phoenix
Anonymous, Ming dynasty (A.D. 1368 1644)
Embroidery. Hanging scroll in satin. 66.3 x 48.1 cm.
---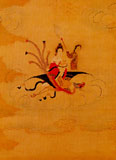 This is one of a series of twelve panels illustrating the Eight Immortals rejoicing in longevity. The principal lady in the celebration is the Queen Mother of the West, shown descending from heaven on a multi-colored phoenix and carrying the sacred peaches of immortality. A maidservant stands at her side in attendance.
---
Click here for a larger picture
(image size between 100k - 300K)
and use the [BACK] Function key back to this page