Early Spring Flowers
Anonymous, Ch'ing dynasty (A,D, 1644-[911)
Tapestry in gourd shape. Hanging scroll. Height: 63.0 cm. Diameter of top: 28.3 cm;Diameter of bottom: 43.0 cm.
---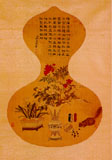 Depicted are sprays of plum blossoms, t'ien-chu, and narcissus all celebrating the coming of spring. Off to the side is a squirrel and around him scattered melon seeds. At the top of the piece is a poem by the Ch'ien-lung emperor in clerical script.
---
Click here for a larger picture
(image size between 100k - 300K)
and use the [BACK] Function key back to this page