The Western Paradise of Amitadha Buddha
Anonymous, Ch'ing dynasty (A.D. 1644-1911)
Tapestry. Hanging scroll. 289.2 x 142.2 cm.
---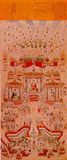 This large religious silk tapestry was done under imperial commission and woven with Ch'ien4ung's long inscription in Chinese, Tibetan, Manchu and Mongol. The Amitabha Buddha is seated in the center on the lotus throne in his Western Paradise surrounded by Bodhisattvas, disciples and other heavenly beings. The intricate details of the architecture, the clothing decorations and the faces are all painted. This large and richly colored tapestry is an example of the fine craftsmanship attained in the Ch'ing dynasty.
---
Click here for a larger picture
(image size between 100k - 300K)
and use the [BACK] Function key back to this page