Peach Blossoms and Thrush
Chu K'o-jou, Sung dynasty (A.D. 960-1279)
Tapestry. album leaf. 23.1 x 22.6 cm.
---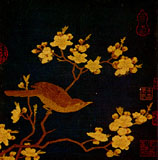 This silk tapestry represents a thrush among peach blossoms against a blue background. In the middle of the right side is woven the seal of Chu K'o-jou. Chu was a native of Sung-chiang, Kiangsu province. During the reign of Kao-tsung (A.D. 1127 1161) she became celebrated for her tapestries of human figures, trees and rocks, birds, and flowers.
---
Click here for a larger picture
(image size between 100k - 300K)
and use the [BACK] Function key back to this page