Emperor Hsuan-tsung of the Ming dynasty
Anonymous
Color on silk. Hanging scroll. 210.0 x171.8 cm.
---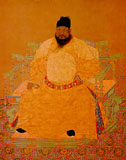 The emperor Hsuan-tsung (reigned A.D. 1426~1435) was the eldest son of emperor Jen-tsung. His personal name was Chan-chi, and his reign title was Hsiian-te. The emperor was a great patron of art; the blue and white porcelains of his period are especially famous and he himself was a fine painter. Hsuan-tsung was also a fierce warrior; on his succeeding to the throne Kao-chao, the Prince of Hart, revolted and Hsuan-tsung himself led an army which defeated Kao-chao and reduced him to the rank of commoner. Hsuan-tsung spent three years at the frontier, where he defeated Wu4iang-hai tribes at the K'uan River.
In this portrait the emperor sits majestically on a richly ornamented throne. He is shown with a dark complexion, full beard and wears a black silk hat and the imperial yellow robe with dragon design.
---
Click here for a larger picture
(image size between 100k - 300K)
and use the [BACK] Function key back to this page