Fu Hsi
Ma Lin (fl. ca. A.D. 1240), Sung dynasty (A.D. 960-1279)
Color on silk. Hanging scroll. 249.8 x 112.0 cm.
---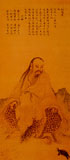 Fu Hsi was a legendery emperor of remote antiquity. It is said that he invented writing from eight mystic diagrams. In this painting Emperor Fu Hsi is seen seated, his hair loose and a deerskin cast over his shoulders. At his feet there are a tortoise and the mystic diagrams of the Book of Changes. At the top is a preface and a eulogy in standard script by the emperor Li-tsung of the Sung dynasty, which refer in particular to Fu Hsi's association with the mystic diagrams.
The portrait was painted by Ma Lin who was the son of the famous Southern Sung painter Ma Yiian. The son became a Gentleman-in-waiting in the Academy of Painting, being well-known during the reign of emperor Li-tsung of the Sung dynasty (A.D. 1225-1264).
---
Click here for a larger picture
(image size between 100k - 300K)
and use the [BACK] Function key back to this page