Egrets on a Snowy Bank
Ma Yuan (ft. ca. 1190-1230), Sung dynasty (A.D. 960-1279)
Ink and light color on silk. Hanging scroll. 95.0 x 37.6 cm.
---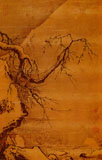 Ma Yuan was a native of Ho-chung, though later in his life he lived in Ch'ien-t'ang, Chekiang province. He served as a Painter-in-Attendance in the Imperial Painting Academy during the reigns of Emperors Kuang-tsung (A.D. 1190-1194) and Ning-tsung (A.D. 1195-1224).
Egrets on a Snowy Bank depicts a snow-clad cliff, aged trees, rushes, bamboo, and a frozen embankment. Four white egrets are all huddled together at the side of the embankment as if overcome by the cold. A single heron stands by the corner of a rock. The old trees, reeds, bamboo, and water were all painted with tremulous brushstrokes. The graded washes were vigorously applied. A quiet stillness pervades the painting.
---
Click here for a larger picture
(image size between 100k - 300K)
and use the [BACK] Function key back to this page