Inkstone with inscription,
"Yu Tai Sheng (Wearer of a jade belt)."
Sung dynasty (A.D. 960--1279)
Length: 17.4 cm, Width: 5.3 cm, Height: 3.6 cm, Weight: 744 gm
---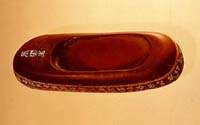 This inkstone, along with its ink pool and grinding area, is in the shape of a Chinese shoe. The area above the ink pool is higher than normal, and on its surface is the carved inscription "Yu Tai Sheng" in seal script. The stone is purple with a lustrous white stripe around the middle, resembling a belt. Just beneath this belt and also in a ring around the inkstone, there is an ode carved in seal script characters, followed by the acknowledgment, "Wen T'ien-hsiang (A.D. 1236--1282) of Luling." A poem by the Ch'ien-lung emperor (A.D. 1736--1795) is incised in seal script in a ring beneath these characters. On the base of this inkstone is another inscription by Ch'ien-lung in clerical script that was carved in the year 1774.
---
Click here for a larger picture
(image size between 100k - 300K)
and use the [BACK] Function key back to this page