Court necklace made from fruit stones, openwork carved with Buddhist Iohan motifs.
Ch'ing dynasty (A.D. 1644--1911)
Bead diameter: 1.1 cm
---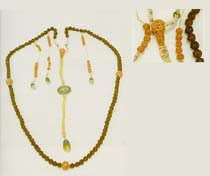 Of standard design, this court necklace is made up of one hundred eight beads, with four to five Buddhist 1ohans carved into each bead. Between every twenty-seven of these beads, there is one coral fo-t'ou bead carved in openwork with cloud and dragon decor. At the very top of the necklace, there are coral fo-t'ou and fo-t'ou-t'a beads also carved with cloud and dragon decor in openwork. There are three chi-nien strands, each with ten coral beads openwork carved in cloud decor. Each of the chi-nien strands ends in a jadeite pei-yun pendant, and the back strap ends in a small tourmaline chuei-chiao pendant.
---
Click here for a larger picture
(image size between 100k - 300K)
and use the [BACK] Function key back to this page