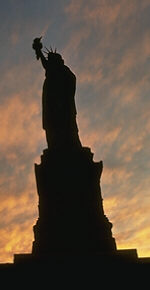 "In the darkest days of the Depression, they dreamed of orderly hygienic cities and houses. ... They looked ahead to safe, fast travel on luxurious streamlined aircraft, trains, buses, ships, and automobiles. Unlike modern architects, whose utopias rarely develop beyond the drawing stage, the first American industrial designers were able to build their model city, the 1939 New York World's Fair." [Bush, p. 3]

THE 1939 NEW YORK WORLD'S FAIR suffered from unfortunate timing and the investors lost two-thirds of their investment. Before the war broke out full-fledged, however, the fair attracted large crows to Flushing Meadow Park in Queens. Many of the people who came liked not only the fair, but Queens as well. Communities Forest Hills and Elmhurst sprang up after the war. [Moorhouse, pp. 242-243]
The 1893 World's Columbian Exposition in Chicago inspired the creation of Coney Island. The 1939 New York World's Fair set a new price performance point, with their amusement parks and rides and "stage-set representations of vernacular architecture," that Walt Disney was inspired to create Disney World.
Sharon Zukin draws some remarkable parallels between Chicago in 1893 and New York in 1939. Both fairs had ideal communities, the 200 idealized buildings of the White City and the Town of Tomorrow in New York. Both fairs featured visions of world led by brave corporations (though by 1939, it was a new generation of corporations, led by General Motors, GE, Eastman Kodak, and AT&T). [Zukin, p. 225]
The future was the topic of this world's fair, even more so than most. Norman Bel Geddes designed a Futurama ride for General Motors, putting the user in chairs that moved across a model of an idealized United States. From one coast to another you flew across cities of the future, with cars on spacious roads and pedestrians on elevated walkways.
Geddes forgot one detail. His model city had no churches. This omission was noticed (repeatedly) when the fair opened in 1939, and by the 1940 season of the fair churches had magically appeared in the Futurama. [Gelernter, pp. 23-25]
When you were done with the Futurama, you might then go to the Perisphere, a huge dome. Inside was Democracity, a perfect model of a perfect world with a thriving central core and pleasant suburbs for nuclear families. The Democracity was high art for model making, taking over 100 people to keep the exhibit running.
You left the Perisphere by walking down the Helicline, a long ramp that snaked around the dome. Next to the Perisphere was the huge spike of the Trylon. The Trylon and Perisphere, painted white and lit brightly at night, were the visual icons of this world's fair, appearing everywhere you went in New York. [Gelernter, pp. 66-82]
Sources
Donald J. Bush, The Streamlined Decade Braziller (New York, 1975). The birth of planes, trains, and automobiles in the 1950s.

David Gelernter, 1939: The Lost World of the Fair, Free Press (New York, 1995). Wonderful book about the New York fair written by a prominent computer scientist.

Tom Lewis, Empire of the Air, HarperCollins (New York, 1991). The story of radio's early days.

Geoffry Moorhouse, Imperial City: The Rise and Rise of New York Spectre (London, 1989).

Sharon Zukin, Landscapes of Power: From Detroit to Disney World University of California Press (Berkeley, 1991), p. 225