! created 01/15/96 ml>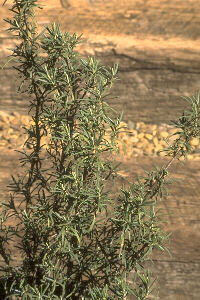 Rosemary
Rosmarinus officinalis
---
Description
A perennial evergreen shrub with grayish green, needlelike aromatic leaves. The clusters of flowers are pale blue. Rosemary is best adapted to growth in well drained, alkaline soil. It is often grown successfully in a container.
Uses
The pungent leaves are used to flavor marinades for meats. Its is also a popular ingredient for a relaxing herbal bath. The leaves contain flavonoids, which are plant pigments, often yellow, with a structure similar to flavone, such as anthocyanin.
Phenolic acid and volatile oils round out the characteristic constituents. Bees using this plant produce a honey of extraordinarily high quality. Because of its antiseptic and anti-inflammatory qualities, rosmaric acid has been studied as a potential treatment for toxic shock syndrome.
History and Lore
It is said that Greek students wore garlands of rosemary around their necks to improve their memory at exam time. Rosemary has been used at weddings, funerals, and even to ward off plague.

Sir Thomas Moore allowed rosemary to grow over his garden walls writing that he did this "not onlie because my bees love it, but because it is the herb sacred to remembrance and to friendship."

Rosemary was a plant of marked importance in Shakespeare's time. It was considered decorative by the landscape gardeners and by gentlemen gardener's of Bacon's stature. Rosemary is a plant that delights in sea spray and is therefore called Rosmarinus meaning "dew of the sea".