Sri Lanka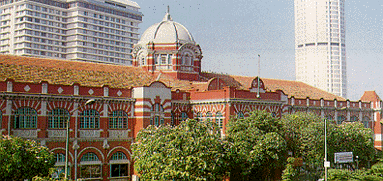 Last Updated: May 23, 1996 10:54 AM

On the scale of a world map, Sri Lanka previously known as Ceylon appears to hang like a tiny teardrop over the Indian Ocean. In reality though, this tropical isle is certainly no drop in the ocean. From north to south it has a maximum length of 435km (270miles) and at its widest point it measures 225 km (140 miles), giving it a land area of 65,600 sq. km (25,300 sq. miles).
At tropical beach level the thermometer soars into the mid 80's F. (29 C.) but, within four hours' journey by road or rail, lies the breathtaking hill country where the temperature drops to the 50's F. (10 C.). As quickly as the climates changes, so does the dramatic scenery. An equally short journey will bring you to the ruined cities of Sri Lanka's ancient civilization. On these journey, you can see palm fringed beaches, a wealth of wildlife, exotic flora, plains and highlands, rivers, lakes, and waterfalls. These are true beauties of Sri Lanka a calm and serene countryside matched by an enticingly simple way of life.
Recorded history in Sri Lanka began when Buddhism gave birth to a cultural revolution more than 2000 years ago. And in the wake of this cultural revolution came an era of unsurpassed achievement. It fashioned life -styles, fostered the arts and inspired the creation of dagabas, temples, monasteries, statues, vast man made reservoirs and irrigation systems which even today defy engineering interpretation.
Almost 25 centuries later, Buddhism is still preserved in its purest form. Its doctrine of peace and tolerance has left its gentle mark on the land and her people. Different religions and ethnic groups live side by side in total harmony in a democratic society.