State Emblem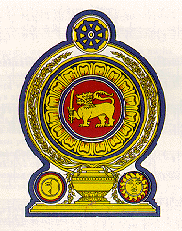 ---
Sri Lanka used the British emblem when it was a British Crown Colony. We continued to use it even after gaining independence in 1948. According to the recommendations of a select committee appointed to devise a state emblem more suitable for Sri Lanka (Ceylon) we opted for a new State Emblem. It had a Lion with Sword in its right fore paw encircled with a Palapethi design stop. Below there was a strip carrying the country's name in Sinhala, Tamil and English.
A new republican emblem was chosen after the country was declared a Republic on May 22, 1972. In addition to the lion with a sword and the Palapethi design it portrays the Punkalasa, dhammachakka, sun, moon and two sheaves of paddy.
---
Back to General Information of Sri Lanka
---
Copyright (c) 1996 A-net, All rights reserved.
mail to : aip@TokyoNet.AD.JP