National Anthem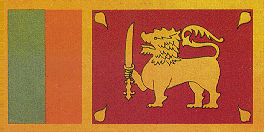 ---
After gaining independence from foreing rule the people of Sri Lanka were kindled with patriotic feeling.
On the recommendation of the Sri Lanka Gandharva Sabha a competition to select a national anthem was conducted in January 1948.
At this competition late Mr. Ananda Samarakoon's composition "Namo Namo Matha" was chosen as the National Anthem.
The main theme of the Anthem is designed to install honour and respect to the Motherland and create national progress though Unity.
During the early 1950s there was a controversy about the national anthem. A defect was found in the lyrics and the opening words were changed as Sri Lanka Matha - Apa Sri Lanka". The first rendering of the National Anthem was made on Independence Day February 04th, 1948 by a group of 500 students from Musaeus College, Colombo and it was broadcast over the radio.
The National Anthem is incorporated in Section 7 third schedule of the Constitution of the Democratic Socialist Republic of Sri Lanka.
<!-A HREF="anthem_s.html">National Anthem in Sinhala
<!-A HREF="anthem_t.html">National Anthem in Tamil
National Anthem in English
Sri Lanka Matha
Apa Sri Lanka Namo Namo Namo Namo Matha
Sundara siri barani surandi athi soba mana Lanka
Dhanya dhanaya neka mal palathuru piri jaya bhoomiya Ramya
Apa hata sapa siri setha sadhana jeevanaye matha
Piliganumana apa bhakthi pooja Namo Namo Matha
Apa Sri Lanka Namo Namo Namo Namo Matha
Obave apa vidya
Obamaya apa sathya
Obave apa shakthi
Apa hada thula bhakthi
Oba apa aloke
Apage anu prane
Oba apa jeevanave
Apa mukthiya obave
Nava jeevana demine nithina apa pubudu karan matha
Gnana veerya vadawamina ragana yanu mana jaya bhoomi kara
Eka mawakage daru kala bawina
Yamu yamu wee nopama
Prema wada sama bheda dhurarada
Namo Namo Matha
Apa Sri Lanka Namo Namo Namo Namo Matha

---
Back to General Information of Sri Lanka
---
Copyright (c) 1996 A-net, All rights reserved.
mail to : aip@TokyoNet.AD.JP