<<Gender-Beyond Memory>>
Place:

Tokyo Metropolitan Museum of Photography

Period:

September 5 - October 27, 1996

Information:

Tokyo Metropolitan Museum of Photography
Tel.03-3280-0031

Hannah Wilke
"6: February 19, 1992"
Intra-Venus Series
(1991-92)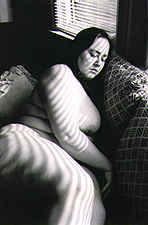 Laurie Toby Edison
"Debbie Notkin"
the series "Women En Large"
(1994)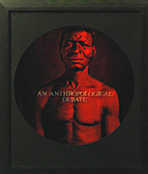 Carrie Mae Weems
"From Here I Saw What Happened and I Cried"
Photo: Catalogue of <<Gender-Beyond Memory>>, Tokyo Metropolitan Museum of Photography
---


Hannah Wilke
http://www.arts.ucsb.edu/
terminals/coils/wilke.html

Hannah Wilke - Reference Page
http://www.artincontext.com/
listings/pages/artist/x/
3f8uvo9x/menu.htm

Women En Large Home Page
http://www.igc.apc.org/
BooksinFocus/

Yoshiko Shimada(in Japanese)
http://www.nikkeibp.co.jp/
ART/9607/adv/adv-11/
adv-11.html

Yoshiko Shimada
http://www.fis.utoronto.ca/
mcluhan/powerplant/
age/yoshiko.html

Contemporary Arts Museum, Houston: Carrie Mae Weems
http://www.rice.edu/
projects/cam/
cam_exhandprograms/
cam_onlineexh/
cam_weems/
weems-index.html

Photograph As a "Trans-gender" Encountering the Exhibition of Contemporary Female Artists
<<Gender-Beyond Memory>>

Akihito YASUMI
Expression through photographs and theories over photographs are about to go through major changes regarding the expression of women. These changes do not imply something so simple, such as the increasingly prevalent expressions by "women", who have been considered and surpressed as a minority. Here, the issue of the visual system in photography has become exposed. In other words, the issue of whether the relationship of those who watch and those who are watched, functions as the power structure that holds down the minority has been indicated. So, in what framework does a photographer position oneself when taking photographs? From what kind of stance does the critic observe the photographs? What does being a "male" or a "female" mean in such a situation? When photography faces a time of trial by political arguments over sexuality and gender, the frameworks like "art&quot and "artwork" that have been clinging onto the conventional image derived from photography, could be on the verge of deconstruction.
The works of the "Contemporary Female Artists" Exhibition, <<Gender- Beyond Memory>>, held at the Tokyo Metropolitan Museum of Photography, presents such questions. The image of women in this exhibition is not that of a beautiful goddess often created by the male gender. For example, in the <Intra-Venus Series>, Hannah Wilke shows her own swollen body that has deterioated with cancer, and Laurie Toby Edison displays bodies of fat women as opposed to slender ones that the modern media expect of women. These are a complete departure from the conventional "artistic" concept of "beauty". However, the photographs point out that these concepts of "art" and "aesthetics" are not universal and that they are concepts that have been created by "men".
The political aspect of the image of a "mother"
As the feminist movements since the '70's have proved, images of the "ideal women" that are expected by men have unconsciously been forced on us through variuos media today, and have even penetrated the minds of women (actually, the same can be said of "men"). For example, the "mother and child" image of magazine advertisements, posters, TV drama, commercials and photographs seem to indirectly imply that a women's greatest happiness is to get married and bear children. Even if women entered into politics in order to expand the women's rights, the stereotypical image of a "mother" is reinforced, as reflected in the catchphrases such as "bring in the housewives' viewpoint into politics" or "don't send children to war". Regardless of what kind of individual problems a mother and a child may have, photography has the power to subordinate them into the expected social image. In other words, though in goodwill, the visions of photography embody the male-centered ideology. There may be opinions that rather than fight against that image for the independence of women, it is much easier to follow it, and that there is nothing wrong in being more comfortable. However, Yoshiko SHIMADA makes it clear in this exhibition that such an image of a "mother" is partly the cause which led (Japan) into the war of aggression, creating the issue of the "comfort women". By re-questioning the works in a political, historical and social context, the myth of the autonomy of art and the neutrality of artworks are about to be deconstructed. Artworks, including photography, can no longer be described only from an aesthetic viewpoint, but they must be thrown into the relationship between art and reality.
The ambiguous power of photography
On the other hand, was not photography originally a political media (in a broader definition)? No matter how much the photographer tries to reflect his aesthetic image on his works, as long as the photograph cannot be seperated from the realistic subject, it will betray his intention, conceiving a deviated image. For example, when the nude photograph was introduced in the 19th century using the daguerreotype photography, people tried to see in the photograph, a vulgar, vivid, and direct reality not existing in the nude depiction of a painting (this was more an expression of the idea of "beauty" rather than a realistic, naked body). Therefore, photography had emerged as a true "minority" media that broke through the norms of beauty, which had existed as the majority.
In that sense, this exhibition holds great significance in that it endeavours to take another look at the potentials and possibilities carried by photography. However, just as the problem over the gender does not become solved by changing from "women" to "men", it does not mean that these works, which attempt to influence the conventional value systems through images including photographs (whether such an expression is appropriate or not), can be accepted as a new "aesthetics" simply because they are exhibited inside a museum. If this new beauty becomes absorbed by the regime of conventional "fine art" and "art", and becomes a model for one kind of "beauty", we will still need a renewed resistance against it.
If the idea of being a "man" or a "woman" must be liberated from the fixation of the normative identity, the expression which does not rely on any model that exists as a majority (of course, this is not a matter of just numbers) will be the one to contribute. Photography exists as an ambiguous medium which can become a weapon for that cause, or become one which suppresses it. We must keep in mind that this exhibition itself also carries such an ambiguity.
[Akihito YASUMIi/Critic]