Tampines East CC is designed to be the hub of cultural activity in the eastern part of Singapore.

It is the first CC in Singapore to house an air-conditioned auditorium with the latest acoustic and lighting systems. It is host to cultural performances, both local and from overseas.

The $7 million CC will be officially opened by Prime Minister Goh Chok Tong and Communications Minister Mah Bow Tan on May 5.

Its facilities include a complete gym and the Three-in-One Centre which comprises a childcare centre, a students' care centre, and an eldercare centre.

Its courses include ballet, English drama classes, abacus, aerobics and Tae Kwon Do.


---
Tampines West Community Club
5, Tampines Avenue 3
Singapore
Tel: 783-7910
Fax: 785-4875





Tampines West CC, with its elegant burnt brickwork facade, provides an open-concept setting to rekindle the kampung spirit and foster community togetherness.

It has a distinctive four-faced clock tower. It tells the time in four languages, as a tribute to our rich multi-racial heritage.

The $7-million CC was opened by Prime Minister Goh Chok Tong on March 18, 1995.

Its facilities include a fitness room, a dance studio. a karaoke lounge, a day care centre and homecraft rooms.

For outdoor activities, it has a courtyard for martial arts activities, a sepak takraw court and a gateball court for senior citizens.

Its courses include abacus, children's art, ballet, speech and drama, cooking, and karaoke singing.
---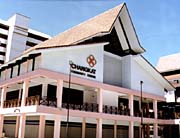 Changkat Community Centre
13, Tampines Street 11
Singapore
Tel: 781-1806
Fax: 786-0666



The Changkat CC is built like an enormous Malay kampung house, with wide corridors and a roof peaked like that of an attap house.

The three-storey CC, being a centre for promoting Asian arts and crafts, has a large pottery room, a print-making room, a photography darkroom and an air-conditioned dance studio.

It was opened by Dr Aline Wong on November 19, 1988. The second phase development of the CC was completed in 1992.

Activities include abacus, piano, art, organ, Chinese Orchestra, guzheng, ballet and pottery.

It is the only centre to organise architectural-model building courses. These receive overwhelming support from residents all over Singapore.