Workshops planned for 1997.
Making the Sacred object.
CollageTechnique.
The Shaped canvas.
I like to work 1-on-1 and I try to get to know the artist beforehand through E-Mail, this way I can design my approach to the subject. Much of my mentoring experience has been with children and helping kids of all ages to discover or develop their creativity is my inspiration.
This small studio is where I like to paint,
make glass panels,
dulcimers and amulets.
There is also a larger studio being re-roofed at the moment.
Photo soon of the finished workspace.
E-MAIL DIRECT: art@saltspring.com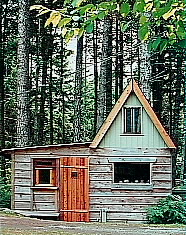 Flying a flag for a free Tibet.