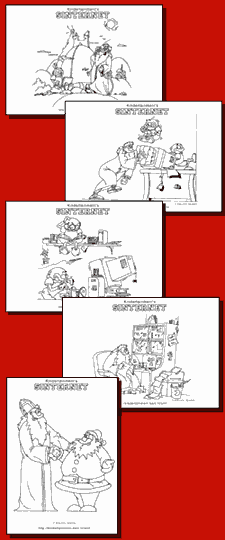 Artwork: Copyright © Maurizio Spadon
Sint Drawings

On the pages of Sinternet you see all different drawings of Sint and Piets. On this page you can find these drawings in black and white, so you can colour them.

Cool, but how do I get these drawings?

I've made it very easy for you, because here you can get one file and in this file all 5 drawings will be included. I'll tell you exactly what to do to print these cool drawings, that we made especially for you:
Get the file with the drawings by clicking here: Sint Drawings (180 kbytes)
Your computer will now ask where (in which directory) you would like put it. The best thing you can do is to create a Sint directory, where you can put the file.
Now the file is on your harddisk and you're ready to unpack it. You can do this by going to the directory where the file is and then you click on the file.
The file is a zip file, so you will need Unzip to unpack the file.
If everything went well you now have 5 drawings in your Sint-directory.
The drawings are in gif-format and you can open these in a graphical software or wordprocessers. When you have done this you are ready to print your drawings.
If you can't do this, just ask your father or mother if they can help you and otherwise you just send us an e-mail and we'll see what we can do. Teg Neut van het Kindertainment Clubhuis.
PS I would like to apologize for the fact this file can't be extracted on a Mac. If you happen to have a Mac, but you do want the drawings you can send us an e-mail and we'll make sure you get the drawings.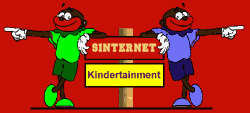 Updated: November 2nd 1996
Copyright ©, 1996, Kindertainment