Schema of Sergiev Posad.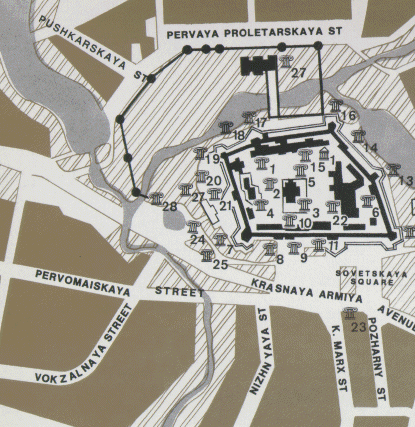 Cathedral of the Trinity. (1422-1423); photo by S.Grimm
Holy Spirit Church (1476-77).
Assumption (Dormition) Cathedral (1559-85); photo by S.Grimm
Refectory (1686-92); photo by S.Grimm.
Bell Tower (1740-70).
Fortress walls (16th-18th centuries).
Pyatnitskaya Tower (1640).
Beautiful Tower and gates (16th-19th centuries); photo by S.Grimm.
Assumption gate (17th century). Entrance to the Monastery and museums.
Gateway Church of St.John the Baptist (1693-99).
Drying Tower (16th-17th centuries).
Duck Tower (17th century).
Ringing Tower (16th-17th centuries).
Pilgrim Tower with gates (1758-1778).
Church of Our Lady of Smolensk (1745-53).
Carpenter Tower (17th century).
Cellarer Tower (1642-1849).
Beer Tower (16th-17th centuries).
Water Tower (17th century).
Water Gate (16th-17th centuries).
Onion Tower (16th-17th centuries).
Tsar's Palace (late 17th century).
The former monastery hostel.
Church of the Appearance of the Mother of God (1547).
St. Paraskeva Pyatnitsa's Church (1547).
Stable yard (1790).
Civic building (19th century)
Railing of the former monastery garden (19th century).

Credits: Ref. 1, p.20
---
Remarks:
Sergiev Posad is the pre-Soviet and post-Soviet name of the town. The name Zagorsk was given to this town after the communist revolution in 1917. The name Zagorsk has the rough Eglish equivalent "A place after hills" (or "a place which is more distant than hills"). The name Sergiev Posad has the meaning "village settled by Sergius".
Train station is located near the left-bottom corner of the schema. Commutter trains go from there to Moscow approximately once in 1 hour. The travel time from Sergiev Posad to downtown Moscow is about 1 hour and half or less. Highway of relatively good quality connects Moscow and Sergiev Posad (the distance is about 50km.)
---
---

Back to the Monastery of the Holy Trinity in Sergiev Posad.

Back to Pictures from Moscow.