Day 5, Friday, August 9, 1996
---
This is a single node panorama done in Resolute near High Arctic International using 12 low resolution shots of the area. Size: 556k

It was snowing again in Resolute this morning. The Environment Canada forecast called for a high today of 2C and a low of -1C. Clearly summer is near an end. By the 15th of August the sun will set, albeit, this means that it will dip a little bit. And in two weeks things will begin to freeze up again.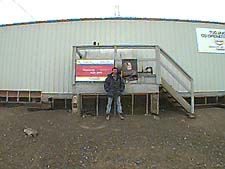 Bob and the World's Fair Poster in Resolute
Resolute is the gateway to the Ellesmere, serving as a staging area for geological expeditions, hiking trips and North Pole expeditions. Many of the visitors you meet here are on their way to or from Ellesmere Island. It was originally founded in 1947 as a manned weather station. One encounters many interesting people up here in the high Arctic, all sharing a common experience and perhaps a unique bond.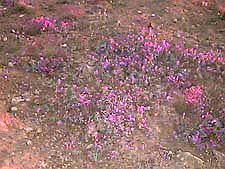 Purple Saxifrage in Iqaluit, Northwest Territories

Despite the remoteness of the arctic regions, there is much promise in collapsing this distance with the new communications tools such as the Internet. Most people we have encountered have heard of the Internet and the World Wide Web, though many have not used it. Many are excited by the prospects of this and other communications tools such as MSAT. Satellites are beginning to play a role in communications north of 60.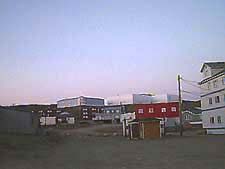 Iqaluit, Northwest Territories

On a recent quest in March, to the North Pole, two Scandanavians, Bjorn Thelin and his companion Petter Reuter where stranded far off the sea-ice north of Greenland. At -50C their stoves had failed and were resorting to melting ice for drinking water with kerosene soaked toilet paper. Thanks to moderm technology and communications they did not meet the same fate as John Franklin and those who searched for the Northwest Passage. With their modified palmtop computer they were able to transmit an email message via ARGOS, a U.S. government satellite. Their support team the Systems Engineering Society in Boston (SES) received a terse "Help!" email and called Bradley Air Services in Resolute for an emergency pick up. A week later the two explorers where back in Scandanavia, a bit disappointed but alive.
One of the inaugural events associated with the 1996 Internet World Exposition - Rick Smolen's 24 Hours in Cyberspace: A Digital Time Capsule took a snapshot of life in cyberspace in a period of 24 hours on February 8th. Part of this digital time capsule featured the northern community of Sachs Harbour located on Banks Island as photograhed by Gene Fisher. By the way, Sachs Harbour is where you will find the northernmost golf course. It however has only three holes. The course in Holman, located on Victoria Island has nine.
After a quick lunch prepared by Diane and Terry at the High Arctic International, we were off to the airport to see if we would be able to catch our flight to Iqaluit. Robin and Rob of Apex Geosiences, who were also staying at the High Arctic, were kind enough to transport the bulk of our gear. As we departed for the airport we were not sure if we would fly today, as the town was fogged in. As was the case the day before, it is often not possible to fly, so one must be prepared for this. Robin, Rob and the rest of their crew have been delayed for a few days in Resolute. But as we approached, much to our joy we found that the airport was clear. Otherwise, Dan and Max would have had to wait until perhaps Monday or later for us to reach Iqaluit!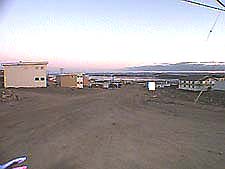 Another photo of Iqaluit

Our First Air flight to Iqaluit took us through Nanisivik again. We arrived in Iqaluit to a beautiful balmy day of 7C. Quite a change from Resolute. After settling in at the By the Sea Bed and Breakfast, we took a late evening stroll into Iqaluit. At this time of year, in the eastern arctic the sun sets at around 10:00PM. We are no longer in the land of the midnite sun.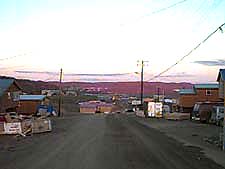 The streets of Iqaluit

Tomorrow, the Soper River Trip begins! Max and Dan will be on their way up from Ottawa. We'll be meeting them at the airport and we should be on the water at Mt. Joy by mid-afternoon. The beautiful day today gives us reason to be optimistic for the weekend!
---
Previous | Home | Next
Mail us on our actic adventure at: adventur@physics.carleton.ca.
---

These Web pages designed by the Arctic Adventure Webmaster