Day 4, Thursday, August 8, 1996
---
We awoke to a constant drizzle and a heavy fog over Cunningham Inlet. This did not bode well. We were expecting to fly to one of the destinations to see either whales or the bird sanctuary. The NY based film crew was expecting to fly out early to Resolute to catch an afternoon flight back to Edmonton via Yellowknife. However, the Twin Otter was grounded due to a heavy blanket of low clouds leaving the airport socked in, which would have made it impossible to land.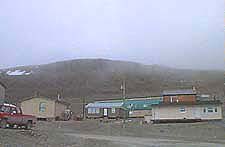 Heavy fog in Resolute, Northwest Territories
This year the weather has not been very cooperative in the District of Franklin. There had been many days were one could not fly. And it was appearing that today would be one of those. The TMI MSAT communicator was in heavy use to make a few calls to try to rearrange travel schedules. Being situated on the remote northwest corner of Somerset Island along the Northwest Passage, Arctic Watch certainly identified quickly the benefits of an MSAT communicator.

Pete Jess with the MSAT

Shortly before lunch, it was determined that it would be a go, to fly the film crew to Resolute. At that time, we decided that it may be best to fly back to Resolute as well, in case this scenario repeated tomorrow with a different outcome. Our next available flight to Iqaluit would have been Monday. We hastily packed our gear and was ready to join the NY based film crew for the 23 minute flight across the Barrow Strait to Cornwalis Island. However, this flight was delayed as a request came in to help evacuate someone with a broken leg to Resolute. This provided us the opportunity to have lunch as the injured party was being transported to Arctic Watch. As well to have another one of those delicious chocolate chunk cookies, that are freshly baked. Ultimately, we received word that the injured party was flown directly to Resolute. After saying our goodbyes and taking a few photos in front of the Twin Otter, we were underway.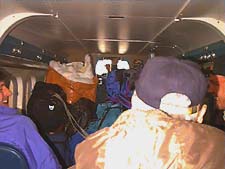 In the Kenn Borek plane

Flying out over Cunningham Inlet, Bill noticed a couple of belugas. Sure enough, there they were, close to shore. So we finally did see some whales! Upon our arrival, the folks at Kenn Borek Air helped to get the NY film crew processed to catch the First Air combi flight to Yellowknife. At the airport we were met by Terry of the High Arctic International, where we would be staying for the nite.
After getting settled in at the High Arctic International located in downtown Resolute, with a population of 190, we took a stroll through town and dropped into the Tudjaat Co-operative. One is struck immediately by the cost of everyday items. A softdrink, for example, is over three dollars. This is of course expected, as there are high costs in shipping by air many of the goods to the high arctic. This is why the majority of the commercial flights such as those by First Air, are combination passenger and cargo. Arctic Watch as it exists today, for example, represents 180 Twin Otter flights from Resolute. The bulk of the heavy supplies arrive by barge once or twice a year at Resolute.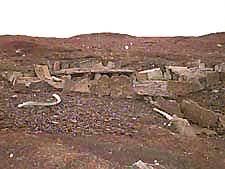 Thule settlement dating back 500 years

Resolute was originally a weather station outpost, established in the 1947.
Following a great supper with the other guests at the High Arctic International, Terry took us to see some of the sites of Resolute. At Allan Bay, which was to the southwest of Resolute airport we were able to make out seals on the ice floes still present. Following this, we drove past South Camp, home of several government research activities to see an old Thule settlement which dates back about 500 years.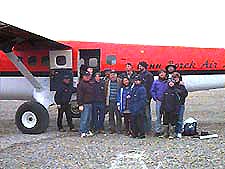 The sad departure of Arctic Watch

During our evening tour it began to snow and fog appears to be settling in. It appears that conditions tomorrow may not be ideal. So departing Arctic Watch early may have been the correct choice. But, as folks here will tell, condtions change quite rapidly.
---
Previous | Home | Next

Mail us on our actic adventure at: adventur@physics.carleton.ca.
---

These Web pages designed by the Arctic Adventure Webmaster