Day 3, Wednesday, August 7, 1996
---
The previous night was long as we stayed up listening to tales about unique experiences up here in the arctic. With a only a few hours of sleep, todays activity after a traditional breakfast of pancakes, bacon and sausage was a hike across the Cunningham River bed into a canyon to see where Thayer's gulls nest.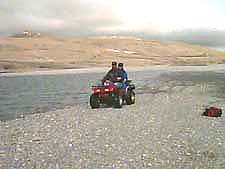 ATV on Cunningham River bed
It was beautiful and sunny as we made our way across the river delta to the left shore. The hike was led by Phil and Catherine working at Arctic Watch. With the ever present possibilities of encountering polar bears, any day trips from Arctic Watch requires the accompaniment of Arctic Watch personel as safety is a constant concern.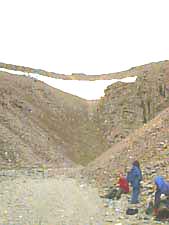 Lunch break in the canyon

The river bed which is a mosaic of rock, sand, water and tundra offers an interesting canvas of high arctic vegetation such as willows, etc. With its sparseness, we find that we are more observant of what we do find or come across. Arctic poppy, purple saxifrage, and yellow draba dot the landscape.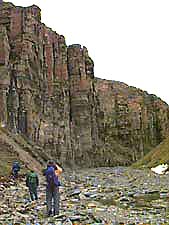 Sea gull nesting area in the canyon

As we enter the canyon we encounter interesting mounds and walls of limestone shale. Also, there are many interesting rock formations and fossilized rocks and corrals. After a stop for lunch, where we observed a perigrine falcon, we ventured a bit further around the corner where suddenly we find vegetation along the canyon walls. And just a bit further we find Thayer's gulls nestled along nooks in the 200ft shale cliffs of the canyon. This is quite a site! To not disturb the Thayer's gulls in their habitat, we avoid venturing further into the canyon.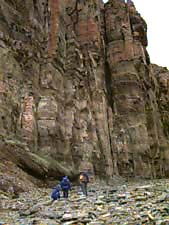 Hiking in the canyon

On the return hike, we encountered a pair of parasitic jaegers along the river bed. They permitted us the opportunity to get close enough to photograph them. We were back to the Arctic Watch lodge by 3:00 in the afternoon.
After a brief rest we were served a delicious appetizer of beer broiled prawn. This was then followed by yet another superb dinner. The evening's activity was a slide presentation which was prepared by Buster Welch of the Department of Ocean and Fisheries on the arctic ecosystem of the Barrister Straight and Lancaster Sound.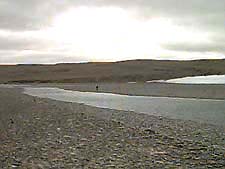 Hiking across Cunningham River

The TMI MSAT® communicator which we are using to transmit these travelogues and images may be coming to a television near you. It was used as a prop by the New York based film crew filming a commercial in and around Arctic Watch!
---
Mail us on our actic adventure at: adventur@physics.carleton.ca.
---

These Web pages designed by the Arctic Adventure Webmaster